On sale
Online only
On sale!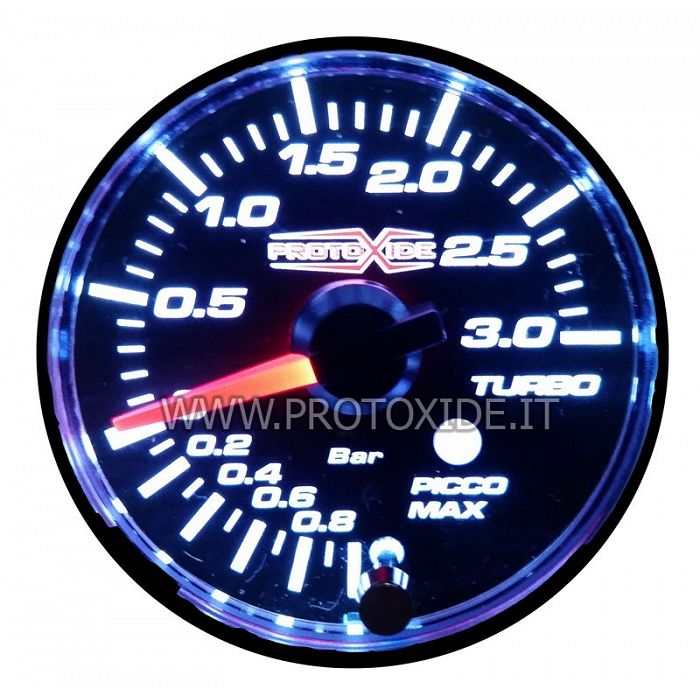 Turbo pressure gauge with memory and alarm 52mm from -1 to +2 bar
Turbo pressure gauge in hand with scale Italian and fantastic logo PROTOXIDE Central.

SECURE ENCRYPTED PAYMENTS

TRACKING NUMBER FOR ALL ORDERS

MON-FRIDAY SUPPORT 10.00-12.30 15.00-18.00
Turbo pressure gauge in hand with scale Italian and fantastic logo PROTOXIDE central, precise and excellent design, here are some of the features:
Available in two colors selected by the user, the first amber red and the other white ice.
E 'the pressure gauge for fans of the changes for their car, as it is easy to appreciate pressure peaks even on the smallest difference.
It is not necessary to bring the hose up inside the cockpit as the kit includes a sensor aps, which converts the pressure into electrical impulse, so just bring inside the car only a thin power cable already included in the package.
It has the function of peak maximum pressure reached, or by pressing the button with a light touch on the front of the instrument, the same move the pointer to the peak recorded.
In addition to this, the second function is to "alarm", allows, always with long press of the button, to enter a limit to the pressure that this value be exceeded, the instrument will begin to alarm the driver with a "beep" over that alternate the color white-red, to alert the driver that we are going beyond the limit set pressure.
Free inside the package is included a beautiful tool holder swivel, with its felt to facilitate the maximum installation, avoiding puncture the cabin.
Reviews
(5)
Fabrizio R




May 15, 2012




Manometro turbo

Questo strumento mi era stato consigliato da un amico e devo dire che é molto bello e soprattuto funziona bene.L'installazione é semplice e le istruzioni a corredo sono esaustive. Dopo l'ordine sono passate 24h e avevo giá ricevuto lo strumento, anche l'imballo "generoso" era molto curato.
Contattandoli per l'ordine ho avuto modo d'apprezzare anche la loro competenza e cortesia, si vede subito chi mette passione nel lavoro che svolge. Complimenti!!
Alessandro M




Dec 3, 2011




MANOMETRO TURBO

Molto bello e chiaro da leggere, spero che non sia difficile montarlo sulla mia touran tdi . Per il trasporto e la confezione molto curata e velocissima.
I miei complimenti Protoxide. 2011-12-03 Alessandro M.
Antonino p




Sep 4, 2011




pmp elaborazioni

la serietà di un'azienda lo si vede dalla qualità dei loro prodotti, e questo manometro ne è la dimostrazione, grande professionalità.....
Antonio I.




May 27, 2011




Indispensabile per i motori sovralimentati.
Lo strumento e molto bello,chiaro,curato.Nella scatola e presente un portamanometro regolabile,si possono usare diverse configurazioni a seconda delle esigenze.Montaggio estremamente facilissimo con istruzioni in italiano chiare e dettagliate.complimenti alla protoxide.Sono soddisfatto di tale acquisto.Molto belle anche le scatole,l'impacchettamento per la spedizione;curatissimo.
andrea c.




Sep 18, 2009




indispensabile per tenere sotto controllo le pressioni delle nostre "belve" di facile lettura anche di giorno utilissima la funzione di allarme per eventuale sovrapressione ottimo rapporto qualità prezzo
In the same category
On sale
Online only
On sale!
New
On sale
Online only
On sale!
On sale
Online only
On sale!
Online only
-€26.00
-€26.00
On sale
Online only
On sale!
On sale
Online only
On sale!
Customers who bought this product also bought:
On sale
Online only
On sale!