On sale
Online only
-€110.00
Save €110.00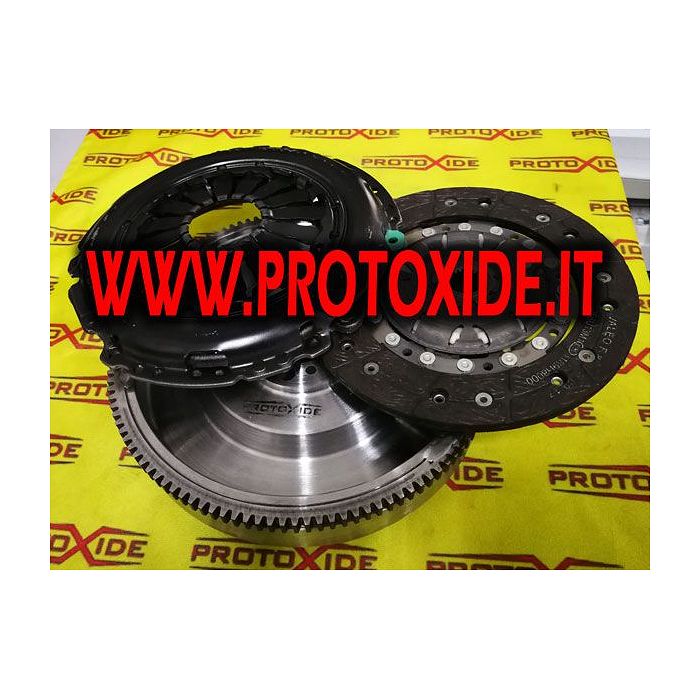 Single-mass flywheel kit steel reinforced clutch T-Jet Abarth
Tax included
Solitamente 24 ore
Single-mass steel flywheel with clutch pressure plate reinforced with specific disk amortized.

SECURE ENCRYPTED PAYMENTS

TRACKING NUMBER FOR ALL ORDERS

MON-FRIDAY SUPPORT 10.00-12.30 15.00-18.00
Are now known to all the trouble of breaking with this overall flywheel-clutch when you increase the number of horses (even if only by reprogramming the control unit).
They fly in special steel single-mass made to accommodate our specific disk with springs thrust designed for this application, pressure plate clutch with reinforced springs and dampers with reduced thickness and loaded upside down.
The flywheel has already inserted the crown, but you must buy the original thrust bearing separately in Fiat
Clutch disc brake pad (not copper) with double shock absorber and coupling between the brake lining
Pressure Plate Kit Original SS reinforced by 30%
Reviews
(2)
Sort by:
Si si è uno spettacolo
4

of

5

people found the following review helpful
Montato sulla mia Alfaromeo mito è perfetto come una frizione originale mi dispiace solo non averlo montato prima xche anche come prestazioni è cambiata tantissimo con il volano alleggerito.. molti dicono che con i volani monomassa vibrerà la macchina. ma per essere sinceri a me vibrava il bimassa quando entrava in coppia.. CONTENTISSIMO DI QUESTO KIT VOLANO MONOMASSA CON FRIZIONE RINFORZATA
Ottimo prodotto
3

of

4

people found the following review helpful
Kit di ottima fattura nettamente superiore agli altri kit per T-jet in commercio.Il volano in acciaio alleggerito ha un peso di 7.2 kg. contro i 9.2 Kg del volano monomassa montato di serie. Lo spingidisco originale della versione esseesse è accoppiato ad un disco frizione appositamente realizzato per questo kit e non derivato da altri veicoli.Tenuta garantita oltre i 350 Nm di coppia! Il volano alleggerito fa salire l'auto di giri molto velocemente e la guidabilita' rimane del tutto identica a quella del gruppo frizione/volano di serie. Persino lo stacco della frizione rimane invariato. Ovviamente nel cambio marcia il volano alleggerito tende a far scendere di giri l'auto piu' velocemente rispetto al piu' pesante bimassa. Inoltre si avverte il classico effetto chattering ad uto in folle e in marcia fino ai 2000 giri. ma è lo scotto da pagare per chi vuole un volano monomassa!
Customers who bought this product also bought: