On sale
Online only
On sale!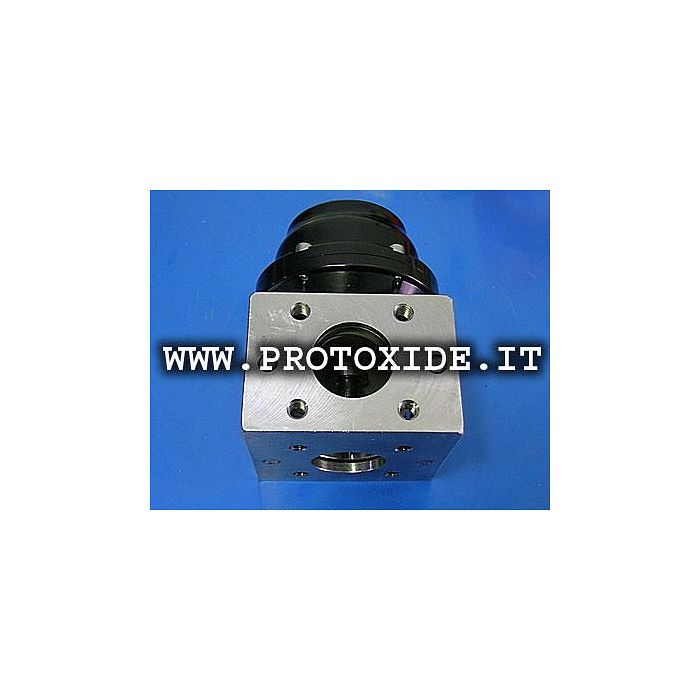 Wastegate Ferrari 208 GTB and GTS Turbo external valve replaceable to the broken wastegate or broken membrane
Tax included
Solitamente 24 ore
Wastegate for Ferrari 208 GTS and GTB external valve for turbocharger. It is installed in place of the original Ferrari wastegate which are now in non-restorable conditions and even with the replacement of the membrane the problems will only be postponed for a few months. This wastegate of ours is the definitive solution.

SECURE ENCRYPTED PAYMENTS

TRACKING NUMBER FOR ALL ORDERS

MON-FRIDAY SUPPORT 10.00-12.30 15.00-18.00
External wastegate for Ferrari 208 GTB and GTS, external valve replacement valve complete.It is one of the most important organs for the correct functioning of this engine. This is a complete replacement of the wastegate valve and it is not just the diaphragm as, the replacement of the same membrane alone does not guarantee a resolutive solutionas it does not eliminate the problems of the original Ferrari wastegate valve which due to age and use with high temperatures lead to irreversible aging on the original wastegate valves, with "starolings of the original cast iron material" which, even if it is replaced with a membrane new, it will never function properly as it was when new, much less like our American-made steel wastegate with special materials made for very high temperatures and in maximum conditions such as competitions.
The lack of the original Ferrari wastegate on the spare parts market is known, given the multiple breakages of this actuator or of the membrane now out of the market. Our wastegate valve is not the original wastegate but is of American production, modified and adapted by the technical department of ProtoXide and conceptually made with developed technologies and materials 30 years laterthe construction of the original Ferrari wastegate valve therefore we guarantee that it workschin so optimal and precise that not even the original tube was so many years ago when it was new.
Wastegate made in red or blue depending on availability, with technical characteristics far superior to the original Ferrari but always with the usual calibration, even if we can supply calibrations with different springs (optional) that are easily interchangeable.
It is replaced by removing the original wastegate, therefore in this way the original exhaust is always maintained and it is not necessary to make changes such as to lose the originality of this car and in any case it guarantees perfect reversibility for the re-installation of the original wastegate if one wants to do it.
This wastegate we are the only ones to make it and we have been making it since 2008, many are using it if not all of those who broke the wastegate, and suggested by many old authorized Services and the photo appears to be old of the very first version now it has been modified and in recent years it has been even more improved than the previous models, even if they already worked correctly but the changes made have made installation of the same even easier and in fact all the compliments received from all the numerous buyers who already have it testify installed and allow him to use and operate the engine of this Ferrari 208 correctly.
It is necessary to specify the mode in the order notesllo precise of this wastegate for your exact model of Ferrari 208, specifically which version is Ferrari 208 with intercooler or Ferrari 208 without intercooler or send us or photograph the original to avoid mistakes, as there are 2 different models in some cases even with the usual motorization.
Reviews
(2)
Sort by:
montaggio perfetto
1

of

1

people found the following review helpful
Valutazione:





Non riuscivo a trovarla e ho chiamato per avere il ricambio della membrana anche se la valvola del mio Ferrari 208 con intercooler era veramente ridotta male tutta massacrata all'interno. Mi hanno suggerito di acquistare questa valvola wastegate lasciandomi anche un numero di telefono di uno che precedentemente l'aveva acquistata , molto gentile Angelo, che mi ha girato le foto del montaggio della sua che ha tolto l'originale mettendo questa e anche il tubo del marmittino originale rimonta perfettamente. Adesso ha pure le prestazioni migliori di prima !
Competenti e professionali anche dopo post vendita. Super consigliata !
1

of

1

people found the following review helpful
Prodotto OK montato su Ferrari 208 Turbo . leggero miglioramento delle prestazioni nella velocità max. e miglioramento nell' elasticità ai bassi regimi. Carmine jr.
In the same category
On sale
Online only
On sale!